Jørgen and Niels "Noller" Olsen won Eurovision 2000 for Denmark with their heartwarming ballad "Fly on the Wings of Love."
The Danish brothers were born 4 years apart and began performing together when Jørgen was 15 and Noller was just 11. They warmed up the crowd for The Kinks in 1965, and released their first single in 1967. They've sold approximately 3.2 million albums, 1.5 million singles, and 2.7 compilations since then. They began competing in the Dansk Melodi Grand Prix to try to get to Eurovision in 1978 (sometimes as a duo and sometimes just Jørgen) and kept coming close—but finally won in 2000 after seven attempts. Denmark clearly did not regret the choice!
The Olsen brothers took a MyHeritage DNA test to learn more about their family histories, and MyHeritage researchers dug into the historical archives to fill in the blanks. Here's what we learned:
DNA Results
The younger of the brothers, Niels (called "Noller"), is 58.1% Scandinavian and 41.9% North and West European.
We found 3,449 DNA matches for Noller from the USA, Denmark and other European countries, Australia, Canada, New Zealand and many other countries.
The older brother, Jørgen, is 76.1% Scandinavian and 23.9% North and West European.
We found 1,882 of his relatives in the MyHeritage records from all over the world.
How is it, you may wonder, that these two men born from the same parents have different ethnic breakdowns?
While we do inherit 50% of our ethnic markers from each parent, we don't necessarily inherit 50% of each type of ethnicity. That is, if for example your mother is 50% Irish and 50% Scandinavian, you won't necessarily be 25% Irish and 25% Scandinavian. The ethnic mix you'll inherit from her is random; it could be 10% Irish and 40% Scandinavian, or 35% Irish and 15% Scandinavian. The ethnic markers you inherit from your mother should add up to about 50% of your total ethnicity estimate, but there's no way to predict how it will break down.
Siblings (with the exception of identical twins) don't share identical DNA; they inherit a random mix of genes from each of their parents. So in the case above, you might be 35% Irish and 15% Scandinavian, but your sister might be 10% Irish and 40% Scandinavian.
Now that we've solved that mystery, let's move on to the MyHeritage's genealogical findings about the Olsen family:
Jenny Marie Nielsen (Grandmother), Ironing Worker at a Historic Mansion
The brothers' maternal grandmother's name was Jenny Marie Nielsen (born Jacobsen). She worked at the local ironing room (stryge stue) at the "Herregården Rørbæk" estate.
We found a picture of her at work:
Below is a job description for a strygepige ("ironing girl").
Herregården Rørbæk is a mansion built in 1875. Located at Lundevej 1, Ullerslev, it has 14 rooms and encompasses 552 square meters.
The Great-Aunt's House by Høje Bøge Stadion
We also found the house where the Olsen brothers' great-aunt, Justa Beata Nielson (born Madsen), lived from 1958 to 1961: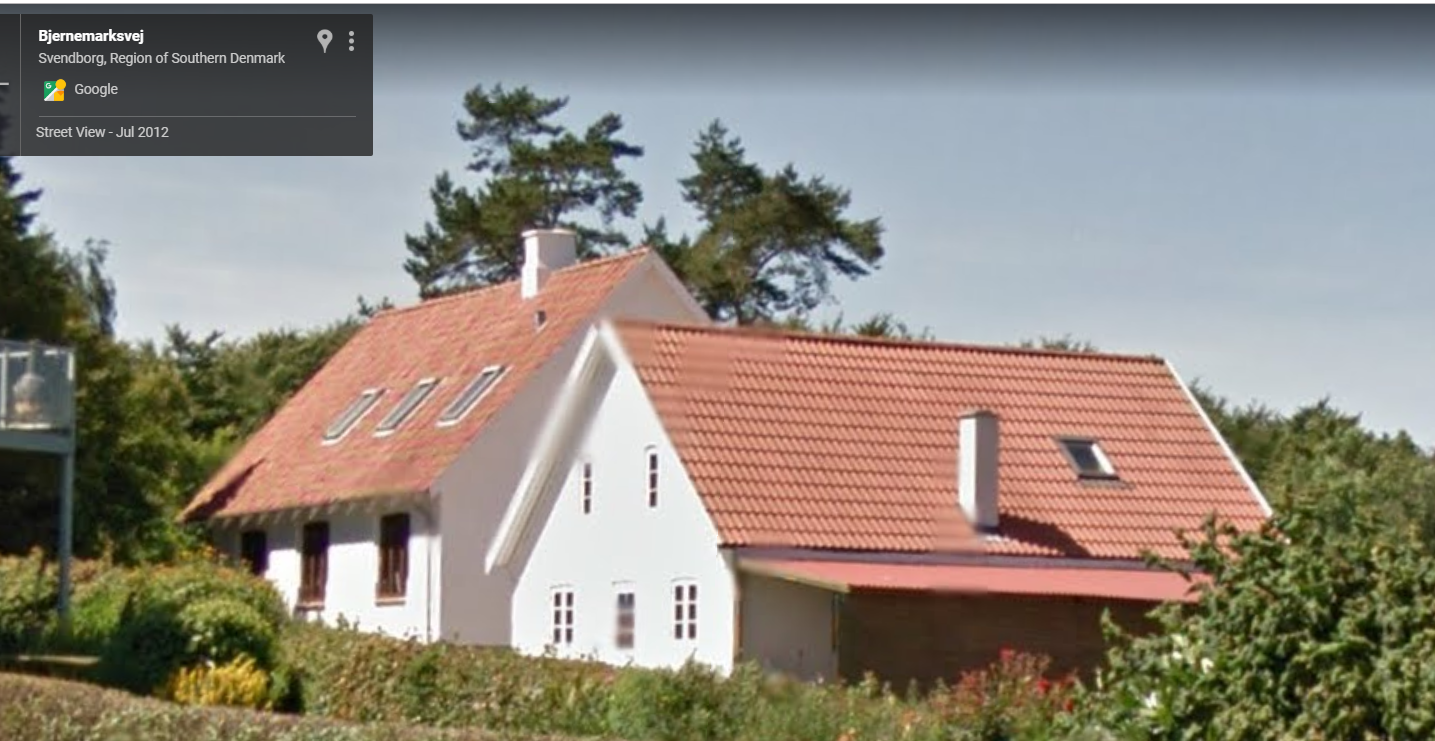 It turns out the house is only 5 minutes away from the Høje Bøge Stadion in Svendborg, where the brothers performed in concert in 2000!
Knud Madsen (Great-Grandfather) and the Consumer Cooperative
On the brothers' paternal side, their great-grandfather Knud Madsen worked in a brugsforening, a consumer cooperative. A consumer cooperative is a business arrangement where one or more convenience stores are owned by their members, with the goal of securing lower prices for members. If the store had leftover profits at the end of the year, the members could choose to use them to purchase more goods, or to invest the money in the store or stores. In 1896, all the consumer cooperatives in Denmark were merged into one organization with more than 1.6 million members.
The building where Knud worked at Gl. Byvej 8, Ellinge, 5540 Ullerslev, Denmark was first established on October 9, 1752 as an inn for the area. On March 22, 1904, the inn suffered a terrible fire, and it was later rebuilt as a consumer cooperative store. Today, it is still used as a local supermarket.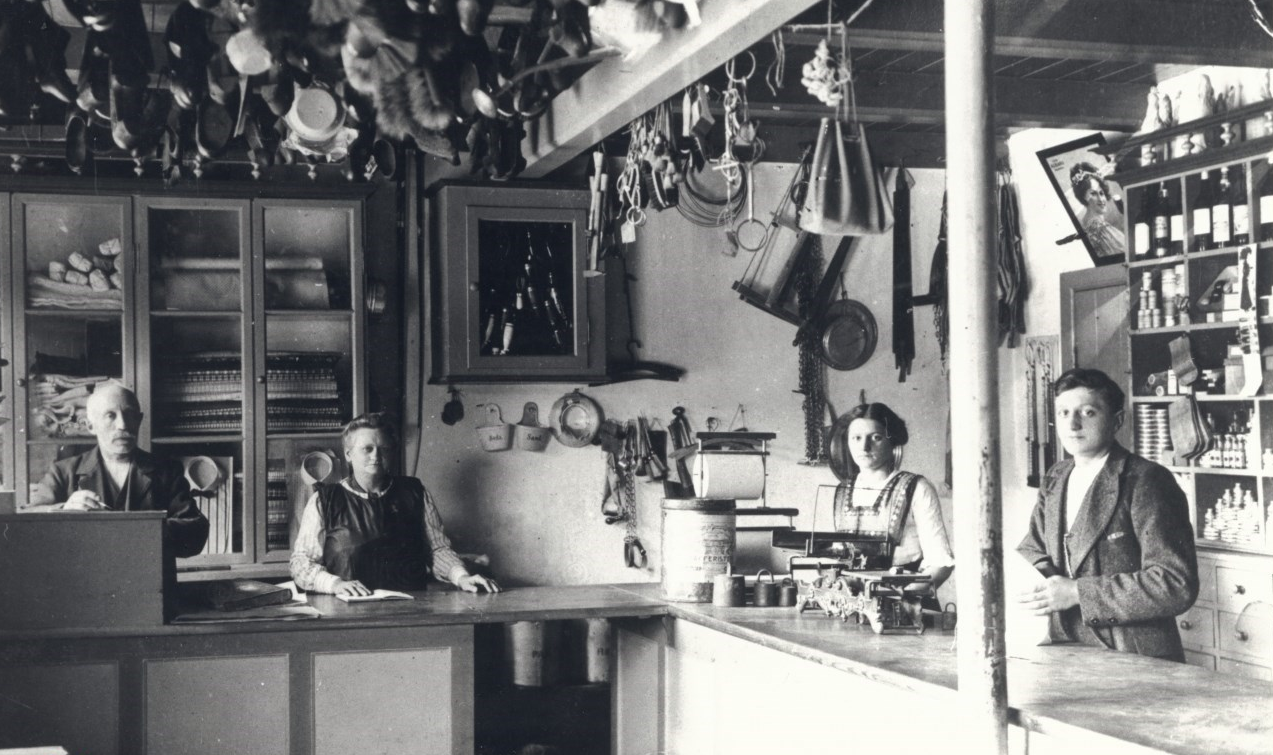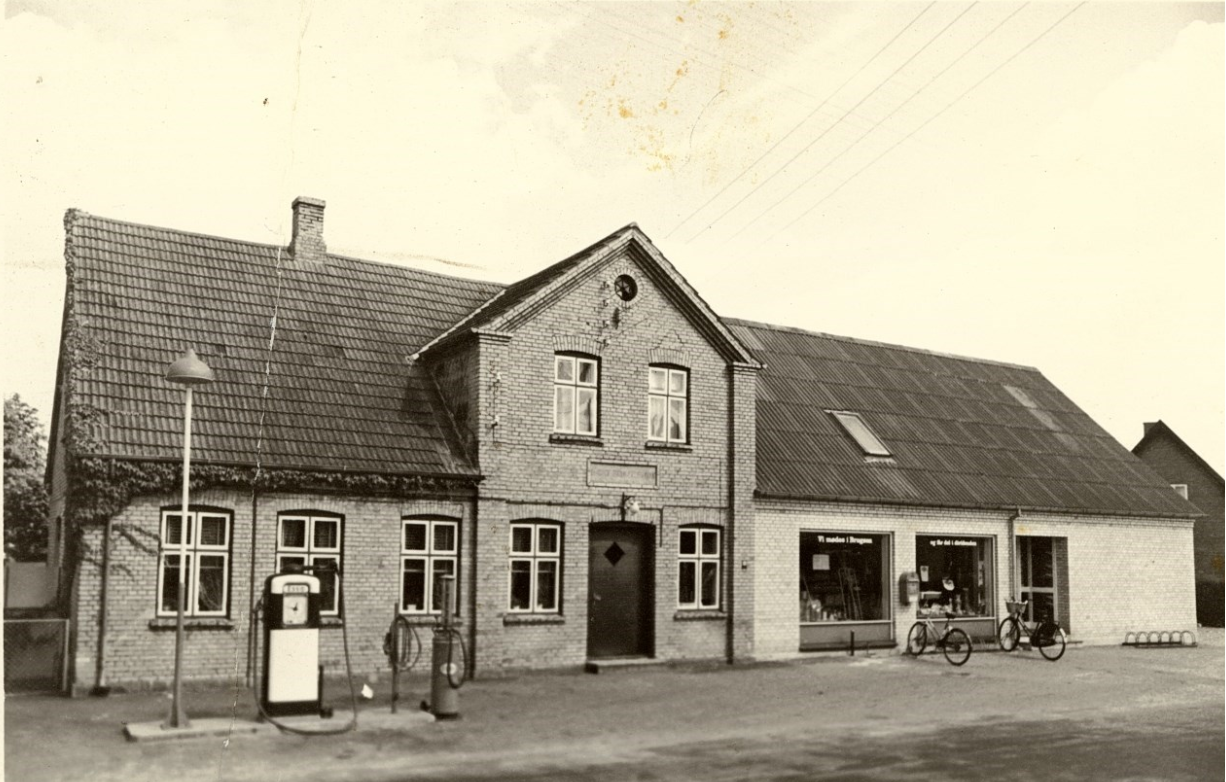 Jens Magnus Madsen (Great-Uncle), Community Performer
We also found this photo of Jens Magnus Madsen (the brothers' great-uncle), performing at the local theater. The play he was performing was Eventyr på Fodrejse ("Adventure on a Journey on Foot").
It appears that a flair for the performing arts runs in the family!
The Secret Birth of Niels Christian Olsen (Grandfather)
Additionally, we found the birth record of the brothers' paternal grandfather, Niels Christian Olsen.
According to this document, Niels was born on November 11, 1897, 10 days before his mother turned 22. His mother, Anna Margrethe Olsen, worked on a farm in Jenstrup, Hyllinge, which was owned by I.P. Kristensen. The record states that she worked on the farm from November 1, 1894 to the May 1, 1897, meaning she left (or was forced to leave the farm) when she was 3 months pregnant.
Anne Margrethe gave birth at "Den kongelige pleje – og fødselsstiftelse" (The Royal Nursing and Birth Foundation). This center was established in 1750 as a place where women could give birth anonymously and receive free medical care, with the goal of reducing newborn mortality rates among women who couldn't afford to hire a midwife or needed to keep their pregnancy and birth secret. The foundation promised to keep all mothers' identities secret indefinitely, but that rule was changed in 2007. Anne Margrethe recovered at the foundation for 9 days, and on November 20, 1897, she returned to her home at Borgergade 68 in Copenhagen.
Bargergrade 68 is only 550 meters away from the Royal Palace in Copenhagen.
What MyHeritage has learned from this research is that the Olsen brothers are descended from a long line of hardworking, industrious and creative Danes, who surely would have been proud of what their descendants have achieved for Denmark.